The Great Austin Scavenger Hunt is a team building session that takes place in exciting and interesting downtown Austin. This team building scavenger hunt includes these locations of interest: The State Capitol, The Old Land Office, Town Lake, Congress Avenue, Sixth Street and more. Your group will learn about the history and architecture of Austin while working together to answer questions and collect objects in this active and exciting competitive challenge.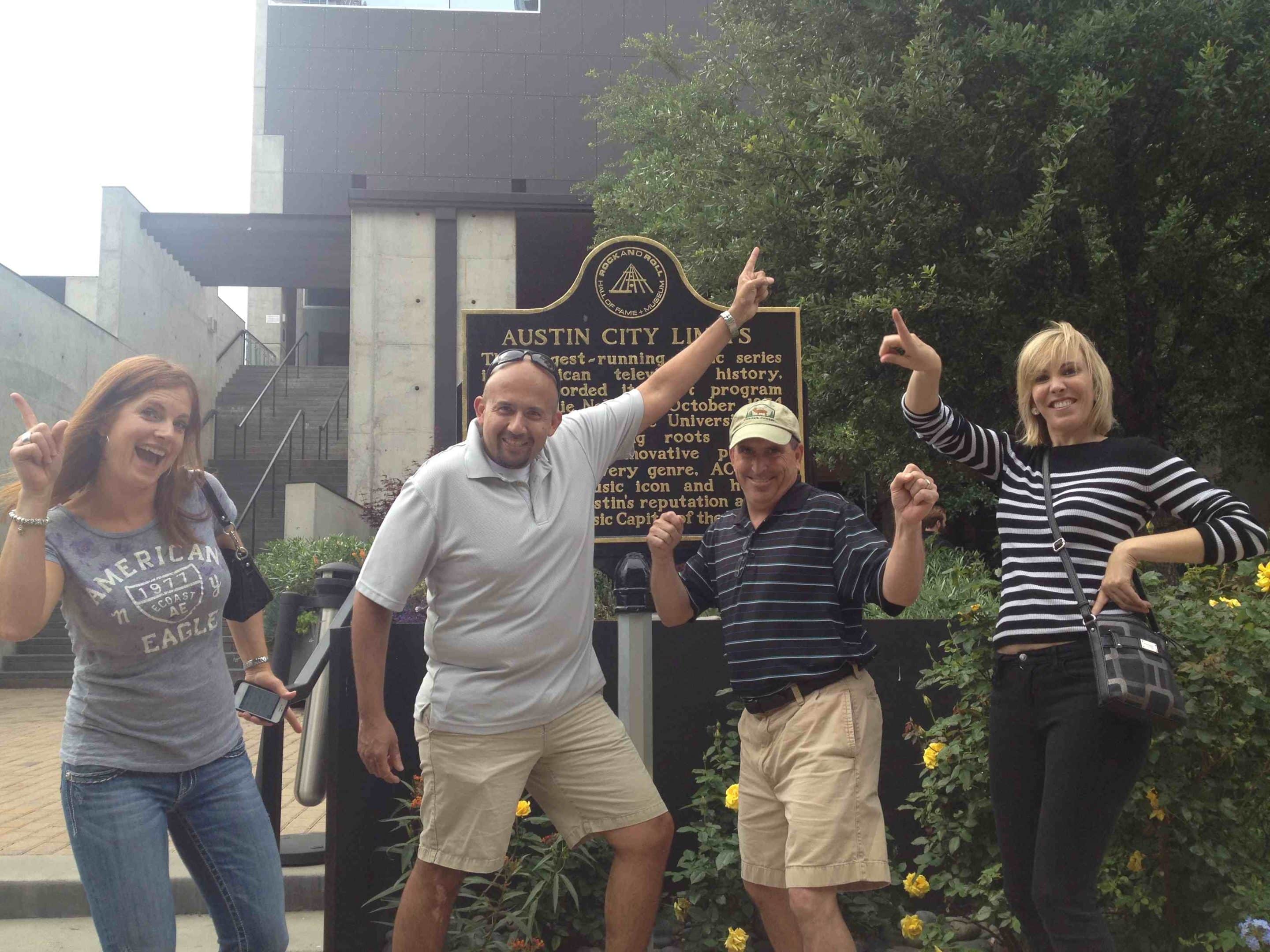 Austin Scavenger Hunt Video
All about our Austin Scavenger Hunt in 65 seconds:
Map of Austin Scavenger Hunt Area
Here is a map depicting the area of our Austin Scavenger Hunt. Though it may seem a bit large, keep in mind that teams will not cover the whole area during their team building exercise. Their job is to choose the best route based on the start and finish locations and duration of the hunt.

Austin Scavenger Hunt Sample Tasks
Here are some sample scavenger hunt tasks for Austin:
At night, what animal's face does the top of the Frost Tower look like?
Take a photo of your team looking like you're studying hard with a student from the University of Texas at Austin.
What floor of the historic Driskill Hotel is know to be "haunted"?
Take a photo of your team putting on a performance outside of the Paramount Theater.
What is the message written on the Gonzales flag, the predecessor to the flag of Texas? (Find the answer at the Land Office).
Photo Gallery for our Austin Scavenger Hunts
Enjoy these photos of corporate groups engaged in our Austin scavenger hunt.
Testimonial for our Austin Scavenger Hunt
"We wanted an event that would allow employees from across the globe to be able to come together for a team building activity that would be both fun and well organized. Boy did you deliver! By the end of the day, all who participated were buzzing with excitement. Our employees are still passing photos and exchanging jokes and memories. Most important,it turned a room full of strangers into fond acquaintances. What I was most impressed with were the outgoing staff and organization of the event. Not an easy task for a group of our size! As an event coordinator, it is wonderful to be able to sit back and enjoy the day's activities for a change. Since the event, I have told many business associates and friends about your company. I highly recommend Scavenger Hunt Anywhere for any occasion, and can hardly wait until we have the opportunity to use you again.
Thanks for a job well done!"
Jennifer Swisher
2004 Halliburton/Landmark BD Academy
Start and Finish Locations for this Corporate Team Building Activity
To ensure your scavenger hunt runs well, it's important to give some thought to both a starting and finishing point. Numerous groups opt to commence their start from their office or meeting venue. As you think through your event, you could explore these possible locations for your group to start and end the hunt:
Your office, if it is in the downtown Austin area.
Your meeting venue, if you are having meetings in the downtown area. Locations like The Fairmont Austin and The Westin Austin Downtown are well-situated relative to our hunt area.
A public space such as in front of the Old Land Office Building works well when the group is coming downtown from another part of the city
For the finish location, some groups decide to end back at their office or meeting location although most end at a bar or restaurant such as:
Nearby Locations for Your Corporate Scavenger Hunt