The Great Midtown New York Scavenger Hunt takes place in one of the world's best scavenger hunt locations. NYC has many neighborhoods where the density of interesting sights is unparalleled. Scavenger Hunt Anywhere offers corporate team building scavenger hunts in locations all around the city so that we can run a program for you anywhere, regardless of where you want to start and finish.
We have been on the New York team building scene since 2000. Trust our experienced staff to create an excellent program in the Big Apple for your participants!
Get A Quote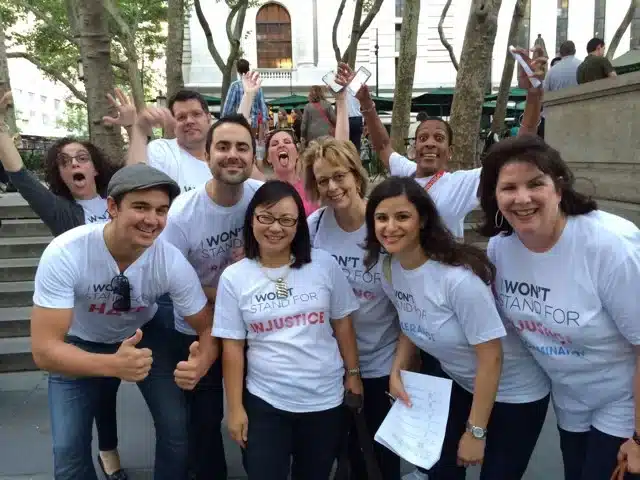 Midtown New York Scavenger Hunt Boundaries
=
Nearby Scavenger Hunt Locations
Greenwich Village
New York Financial District
Sample New York City Midtown Scavenger Hunt Tasks
Take a photo of the Amtrak departure board at Penn Station.
Take a photo of your team pretending to climb the Empire State Building
How many times is the word "NASDAQ" found along the curb at the NASDAQ building?
How many cast iron torches are found on the front of the St. James Theater?
New York City Midtown Scavenger Hunt Photos
Check out some teams in action in NYC Midtown:
How our New York Scavenger Hunt Works
Once you've decided the area of New York City for your company scavenger hunt, we meet your group at a predetermined location to start your organization's fun-filled team building activity. The duration of the hunt is flexible, and every scavenger hunt is designed differently depending on the location. Some scavenger hunts can be completed in as little as 90 minutes, while some can last as long as 4 hours – the timing is up to you.
Participants will be provided with login information to access our proprietary mobile scavenger hunt app (available on iPhone and Android) which tracks each team's progress, and allows them to access tasks and find checkpoints. If you prefer, paper scavenger hunt instructions are available as well.
Once the scavenger hunt is complete, groups participating in the team building activity meet at a pre-arranged final destination to find out the results. We typically recommend that you end your New York City scavenger hunt at a restaurant to relax, unwind and so teams can share their experience with each other.
Scavenger Hunts are fun for corporate groups of all types, require no athleticism, and no prior experience is needed. Even those who are not convinced that they like team building exercises will love the uniqueness and fun of a NYC scavenger hunt!
Suggested Venues for your New York Midtown Corporate Team Building Event
You'll need to choose a start and finish location for your scavenger hunt. Often our groups start their hunt at a meeting room, so perhaps your group will find itself in one of the following locations:
Consider booking your finish location at one of these venues:
We Customize the Perfect Team Building Activity For Your Group in New York
You choose the start and finish locations and the duration for your team building activity – anywhere from 90 minutes to 4 hours will work. Many other customization options are available upon request.
Our most popular NYC scavenger hunts are Midtown, The Financial District and Greenwich Village / Soho. Each of these NYC scavenger hunts offers different unique sights and landmarks to see, photos to take and questions to answer.
We can also run a New York scavenger hunt in the Upper East Side, Little Italy – anywhere you would like to go for your team building hunt program.
Complete the form on our contact us page to receive prices and information about our New York scavenger hunt.