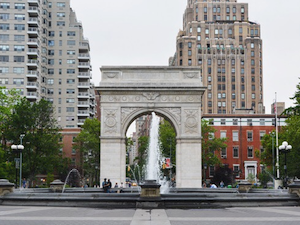 Our Greenwich Village scavenger hunt takes place in this vibrant and artistic part of New York that is a fantastic walking area.  There are many, many interesting locations that groups can visit such as the famous Washington Square Park.
If you are looking to give your team a break from the intensity of the Financial District or find the Midtown area too touristy, then this is the best hunt location for your group.
Greenwich Village Scavenger Hunt Boundaries
Nearby Scavenger Hunt Locations
New York Financial District
New York Midtown

Sample Greenwich Village Scavenger Hunt Tasks
Why is "1849" located at Bleeker Street at MacDougal so named?
Take a photo of your team in front of the "Friends" building.
How many rosettes are found on the underside of the Washington Square Arch?
Take a photo of your team pretending to jam in front of the Blue Note Jazz Club.
Complete the form on our contact us page to get prices and information about our Greenwich Village scavenger hunt.