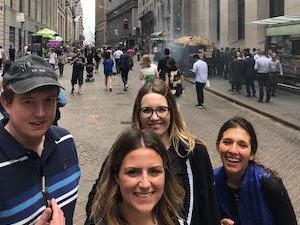 Welcome to the New York Financial District Scavenger Hunt. This is an ideal team building activity for corporate groups looking to build relationships between participants while allowing them to explore this vibrant and exciting part of NYC.
Learn more about our scavenger hunt in this location below.  Check out the map of the area, some photos from previous hunts and some other location options.
NYC Financial District Scavenger Hunt Boundaries
The area for our Financial District scavenger hunt may seem a little large, but don't worry – teams do not have to cover the entire area.  Rather, they have to determine, based on the tasks that they have been given, what route they will take in order to get the highest possible score in the allotted time.
Nearby Scavenger Hunt Locations
Greenwich Village
New York Midtown
Sample New York City Scavenger Hunt Tasks
What historic figure makes his home at City Hall Park?
Take an artistic photo of the Freedom Tower.
Take a photo of a your team in front of a building with unusual geometric shapes.
What is New York City's oldest building in continuous use?
New York City FiDi Scavenger Hunt Photos
Teams have a lot of fun in our Financial District Scavenger Hunt.  Here's proof:

Some other locations we can run a hunt in New York include the Upper East Side and Little Italy.   The city is so perfect for a scavenger hunt that if you don't see your desired location on our website, just let us know and we can design a hunt there for your group.
Complete the form on our contact us page to receive prices and information about our New York scavenger hunt.