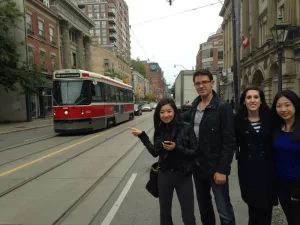 Groups experiencing our Downtown Toronto scavenger hunt embark on adventures of discovery and competition as participants work in teams to achieve the highest score possible in the time they are given.
Teams install our very own smartphone app which gives them all the tasks in the hunt. Information is collected from various landmarks, monuments, works of art and tourist venues and used to answer questions within the app. Teams are also challenged to take photographs of their team in certain places or performing various tasks.
Use a local provider!
Scavenger Hunt Anywhere's global head office is in downtown Toronto. This way, your Toronto team building program will have an experienced local leader, updated local content and the expertise of our staff in helping you choose the right place for your hunt.
Discover the exciting Financial and Entertainment Districts. Participants in the Downtown Toronto scavenger hunt will visit many well-known places such as CN Tower, Rogers Centre, The Hockey Hall of Fame, The Fairmont Royal York Hotel, The Royal Alexandra Theatre, Roy Thompson Hall, Bay Street and the Financial District, Old City Hall, New City Hall and many more. Because of the PATH, Toronto's wonderful network of underground walkways, teams can travel indoors if the weather is poor, making this a year-round, weatherproof activity!
Toronto Scavenger Hunt Boundaries
Here is a map showing the boundaries of our downtown hunt which is essentially in the Financial District and Entertainment Districts.

Nearby Scavenger Hunt Locations
Bloor-Yorkville
Distillery District
Oakville
Old Mill Toronto
Streetsville-Mississauga
Unionville
University of Toronto
Sample Toronto Scavenger Hunt Tasks
The plaque commemorating the freedom arches is mounted on a slab of what?
On the City of Toronto plaque on Wellington St., what is David Pecaut's year of birth?
Take a photo of your team, CN Tower and Roy Thompson Hall all in one shot.
Take a photo of your team cheering with someone wearing Toronto Raptors fan gear.
When was Bon Jovi inducted into the Air Canada Centre Hall of Fame?
Sample PATH Scavenger Hunt Tasks
Our regular downtown Toronto scavenger hunt takes place primarily in the Financial District. Teams have the option to travel around in the PATH if the weather is inclement.  Most teams will spend some of their time indoors.  But for groups that are foul-weather adverse, we have created a PATH scavenger hunt, which takes place 100% in the PATH and buildings and venues that it connects.  Here are some sample tasks from the PATH hunt:
How many Canadian flags hang in the atrium over the concourse at First Canadian Place?
Take a photo of your team setting up for a face-off at the main entrance to the Hockey Hall of Fame.
What metal is used as an accent in the lobby of the Royal York Hotel?
Take a photo of your team with a "rondelle" of a moose in the atrium at Scotiabank Arena.
Toronto Scavenger Hunt Photos
Check out some Toronto pictures taken by past groups:

Why choose a Toronto scavenger hunt
Here are some reasons why so many groups choose our Toronto scavenger hunt as a team building activity for their meetings, offsites, incentive programs and conferences: Number one – it's fun! Even people who "don't like team building" love this event. Also, it is an inclusive activity that anyone can participate in. All players are on an equal footing in that none of them have done this activity before. It is a fabulous way for your participants to get to know each other and return to the workplace having had a shared experience worth remembering. Contact us for more details and pricing.
TESTIMONIAL
Just wanted to circle back and let you know the hunt went off perfectly on Friday! Our team had tons of fun, I got quite a few comments comparing the event to a scavenger hunt that the company did a few year before my time here that was apparently a complete disaster compared to this one! The app worked perfectly and all of your instructions were very helpful and easy to follow, so thank you for all the support.

I also had a blast being the hunt manager and getting the front seat to view all the hilarious pictures as they came in, I will definitely be recommending your team for any team building events that my friends and past colleagues might be holding for their company's socials!

Thanks again!
Jafari Francis
Sherritt International
Our Toronto address:
Scavenger Hunt Anywhere
36 Toronto St. Suite 850
Toronto ON M5C 2C5
(905) 901-9300