A nice alternative to the hustle and bustle of the Financial and Entertainment Districts, Toronto's popular Distillery District is an excellent choice for a scavenger hunt location.
The old brick buildings are full of history and teams will learn a bit about this during the hunt. They are also very photogenic and so for an activity that involves photos, this is a great venue.
Another great thing about the Distillery District is that there are excellent choices for restaurants at which to have your results presentation and to let your participants relax and share stories about the hunt.
During the hunt, participants will visit the various locations of interest in the area such as: Young Center for the Performing Arts, Mill St. Brewery, the Malting Building, the Acetones Plant, Tankhouse 10 and more.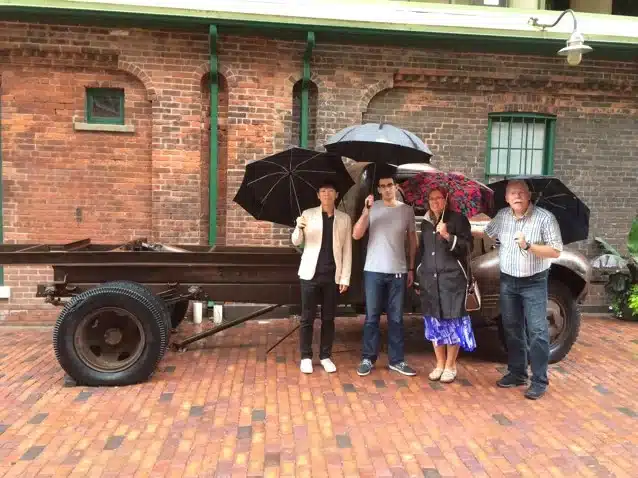 Distillery District scavenger hunt area:
This map depicts the area in which the hunt takes place.  It's a small area, but it's nice because there are no cars.
Here are some sample tasks from the hunt in this location
What was the original use for tankhouse 10?
Take a photo of your team looking famous while walking up a red carpet.
How many lions are depicted on the sign at Brick Street Bakery?
Take a photo of your team making hearts with their hands by the big red heart.
What is the name of the large three-legged spider sculpture?
Take a creative photo of your team pretending to hold up the large smoke stack.
A few shots of happy hunt participants
Start and Finish Locations for your Distillery Scavenger Hunt
Choosing the right start and finish locations is essential to ensuring the smooth running of your scavenger hunt.  One nice thing about the Distillery District is that there are some obvious choices.
For start location, we generally recommend that the group assemble at the Still Dancing Sculpture.  That way they will be near the parking lot and in an open area where some kickoff announcements can be made.
For a finish location, may we suggest one of the popular restaurants in the area?  The most common choices for the end of the hunt are Mill St. Brewery and El Catrin.
Testimonial
I just wanted to send another note and sincerely thank your team for an amazing event, we had so much fun! Estelle and Adam were so great! Thanks again, it was a pleasure.
Margarita Dvorkina
Ricketts Harris