Our Calgary scavenger hunt is an active and enjoyable team building session in the heart of Canada's new frontier.
This is a great way to experience the city's exciting downtown area. The hunt takes teams to a variety of locations including The Calgary Tower, Stephen Avenue, The +15, many works of art and monuments and much more.
Because the city's downtown is connected by an above-ground indoor network of walkways called the "+15", this is a true year-round activity because our scavenger hunt takes place in and around these walkways. Thus Calgary is a suitable location for a corporate scavenger hunt in spring, summer, fall or winter!
Calgary Scavenger Hunt Map
Here is a map depicting the approximate area in which our typical Calgary Scavenger Hunt takes place.

Calgary Scavenger Hunt Testimonials
Calgary scavenger hunt sample tasks
Take a photo of a team member trying on a very large cowboy hat.
What is notable about the bridge between 510 5th Ave and the Aquitane Building?
Take a photo of your team in front of a cow or bull. Everyone should hold their index fingers above their heads like bull horns.
Take a photo of your team with a locomotive.
According to the plaque "The Buildings" on Stephen Ave., how many departments did the original Hudson's Bay Company building boast?
Calgary Scavenger Hunt Photo Gallery
The Best Team Building Activities in Calgary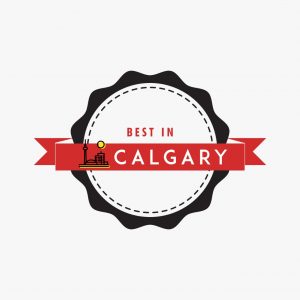 Why a Calgary Scavenger Hunt
Here is a quick explanation on why downtown Calgary is such a great place for a corporate scavenger hunt.