Your team can enjoy the scenery and the laid-back urban attitude of the downtown area, visiting many of the city's most famous landmarks such as: Robson Street, Canada Place, the Fairmont Hotel Vancouver, The stunning Vancouver Public Library, The Pacific Centre, Gastown and Coal Harbour, just to name a few!
Vancouver, which hosted the Olympic Winter Games in 2010, is a very interesting city, which makes it a great spot for a corporate scavenger hunt.  Your participants will visit the above landmarks while taking photographs and answering Vancouver-based trivia questions.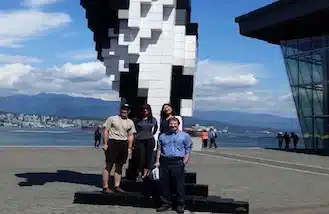 Scavenger Hunt Anywhere
has provided this engaging team activity in this world-class city since the year 2000.
Here is a map showing the area in which our Vancouver scavenger hunt takes place:

As an alternative location, you could also consider our Granville Island Scavenger Hunt. If there is another neighbourhood that you are interested in, please let us know. Some possibilities in include North Vancouver, West Vancouver, Kitsilano, University of British Columbia (UBC), New Westminster, Port Coquitlam, or anywhere else that has a large enough business area.
Sample Scavenger Hunt Tasks for our Vancouver scavenger hunt:
A flock of what kind of art deco birds flies over the entrance to 355 Burrard?
Take a photo of your team circling around Gassy Jack in Gastown.
Take a photo of your team in front of an Orca whale.
At 840 Howe St., what is the mathematical difference between the two numbers written in Roman Numerals?
Take a photo of your team with mountains in the background?
Vancouver scavenger hunt testimonial
How much fun are these people having?!
Nearby Scavenger Hunt Locations
Granville Island
Victoria
Whistler
Check out this video about why Vancouver is a great Scavenger Hunt city
For more information, visit our contact us page.