Located between the St. Lawrence River and the skyscrapers in downtown Montreal, Old Montreal, or if you prefer, Vieux Montréal, is rich in history, beautiful architecture and culture. The old buildings and streets just ooze ambiance and there are so many great places to take photographs that your group will take many memorable and beautiful pictures while completing team building activities in Old Montreal. The rich history of the area is perfect for trivia questions and your group will learn much about Montreal and the beginnings of Canada while answering questions during this engaging activity.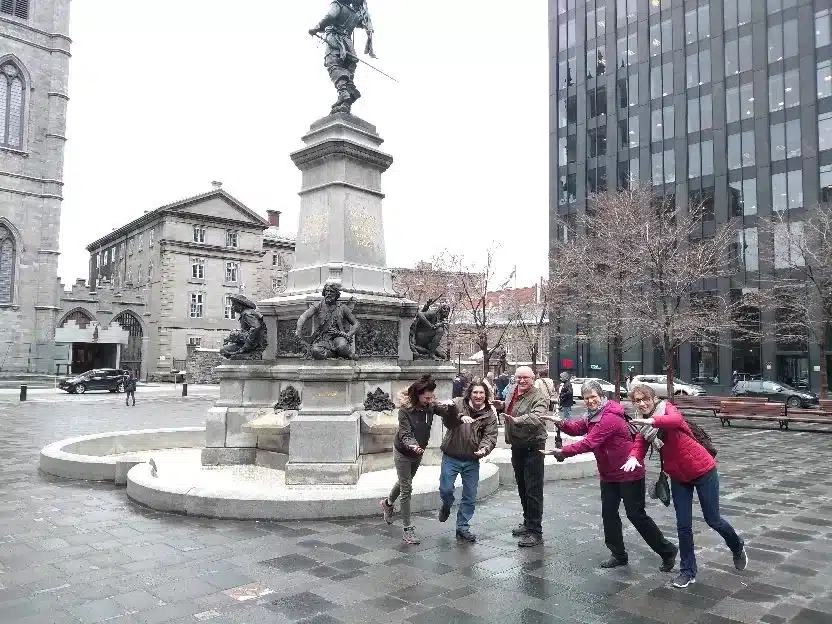 The Great Old Montreal Scavenger Hunt encompasses the following attractions and more: the birthplace of Montreal, Place D'Armes, the Old Sulpician Seminary, beautiful Notre Dame Basilica, Montreal's first skyscraper, the Bank of Montreal head office, St. Jacques St., Place d'Youville, the Old Port and much more.
Old Montreal is a fabulous place for a scavenger hunt with many options for your after-party. Choose one of the many great restaurants in the area for a great place for your group to relax and find out the results of this fun and competitive activity.
Get A Quote
Old Montreal Scavenger Hunt Video
All about our Old Montreal hunt in 64 seconds:
The boundaries of our Old Montreal Scavenger Hunt
Sample scavenger hunt tasks for Old Montreal
Where do you have to pay to get lost?
Take a photo of the birthplace of Montreal.
What's the legend surrounding the Notre-Dame de Bonsecours Chapel?
Take a photo of a love letter, written in French, by someone not on your team.
Take a photo of the Bank of Montreal head office.
Old Montreal Scavenger Hunt Testimonial
"We had a great time today on the scavenger hunt. We're here with our entire global marketing team in Montreal for a meeting this week. It was a great team building event. We got to get out of our meeting room and experience a little bit of Old Montreal and just had a really great time. We really, really enjoyed the challenges and I think this was definitely a very successful event."
Arshia Hussain, Cepheid
Get A Quote
Check out these photos of our Old Montreal Scavenger Hunt
Some locations that are nearby:
Mont Tremblant
Montreal Downtown
Ottawa
Quebec City
If downtown is your preference, you can click to learn about our Downtown Montreal Scavenger Hunt.
Contact us for more details.